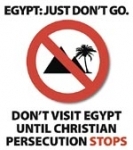 The Muslim Brotherhood's candidate for the Egyptian presidency, Khairat al-Shater, declared that introducing sharia law would be his "first and final" objective if he wins elections in May and June.


Making his first reported statements since the Brotherhood's surprise decision to field him in the elections, Shater also promised to reform the Interior Ministry which long played a leading role in suppressing dissent.

However, he denied he had struck a deal with the military on his candidacy, announced last Saturday, even though it may help candidates close to the old order of ousted President Hosni Mubarak by splintering the Islamist vote.

"Sharia was and will always be my first and final project and objective," Shater was quoted on Wednesday as telling a meeting of the Religious Association for Rights and Reform - a group of which he is a member, along with figures who belong to the hard-line Salafi school of Islam.

In comments reported in a statement issued by the Association, Shater told the meeting held on Tuesday night that he would establish a special entity to help parliament achieve this objective.

The Brotherhood's reversal of its promise not to contest the elections has drawn criticism from inside and outside the group, whose party controls the biggest bloc in parliament and which dominates an assembly that is drawing up the constitution.

Shater called for reform of Interior Ministry to curb its "involvement in all aspects of the state".

The 61-year-old millionaire businessman is set to present his candidacy documents on Thursday. He is viewed as a front-runners because of the Brotherhood's organisational clout and grassroots network.

The rise of Islamists is being closely watched in the West, long wary of their influence in Egypt, the first Arab state to make peace with Israel and recipient of $1.3 billion in annual U.S. military aid. But U.S. and other officials have lined up to meet Brotherhood officials, including Shater.

NO DEAL

Shater, a pragmatic conservative, rejected suggestions that he had connived with the military which has ruled Egypt since Mubarak's overthrow last year to undermine the growing popularity of other Islamists.

"There is no deal between me and the military regarding my candidacy," said Shater, who often drew up the Brotherhood's strategy from a prison cell during Mubarak's rule.

His candidacy may splinter the Islamist vote, which is already split between at least three other candidates, possibly benefiting opponents attached to Mubarak's old order.

Two main Islamist contestants are Hazem Salah Abu Ismail, who follows a much more conservative interpretation of Islam than the Brotherhood, and Abdel Moneim Abol Fotoh, who was kicked out of the Brotherhood for announcing he would run for president before the group changed tack.

Some Islamist candidates say they have come under pressure to withdraw in favour of Shater but they have promised to stay in the race. The ruling generals insist they will not get involved in the elections.

Some Brotherhood officials have expressed fears that it will have to carry the burden of running a country in transition single-handedly if it wins the presidency, and that it will raise rivals' concerns that it is seeking a monopoly of power.

The assembly drafting the new constitution said on Wednesday it would press on with its work despite fears that withdrawals by liberals and religious institutions would hinder the process.

The constitution is due to be written by the 100-member assembly of politicians and public figures over the next six months. However, dozens of non-Islamist representatives have walked out, complaining that their voices are being drowned out.

"We will give the chance to our brothers to come back and we will proceed in our activities so that we aren't late; both will take place simultaneously," said Saad al-Katatni, a Brotherhood member who heads the assembly and is also parliamentary speaker.