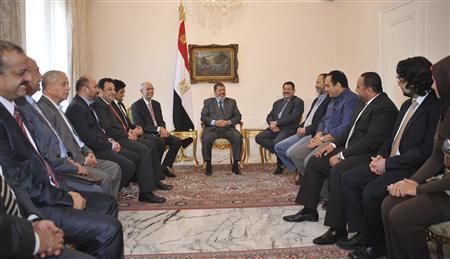 (Reuters) - Islamist President-elect Mohamed Mursi began talks on Wednesday with groups nervous about where he will take Egypt after the generals who have ruled since Hosni Mubarak's fall make way for the republic's first civilian leader.

U.S. Secretary of State Hillary Clinton urged Mursi to bring diverse groups into his government, mentioning Egypt's Coptic Christian minority, secular-minded Egyptians and young people.

The U.S. State Department played down reports that Clinton might visit Cairo this weekend, saying that she was unlikely to visit Egypt during her current trip to Europe, which is due to end on Saturday in Geneva.

Speaking at a news conference in Helsinki, Clinton stressed the importance of developing democratic institutions, including countervailing forces such as an independent judiciary and a free press.

"We hope that full democracy is understood to be more than an election," she said. "One election does not a democracy make.

"That's just the beginning of the hard work and the hard work requires pluralism, respecting the rights of minorities, independent judiciary (and) independent media..." Clinton said.

Clinton promised support for a democratic transition in Egypt, a firm U.S. ally and a recipient of billions of dollars in U.S. aid since it signed a peace treaty with Israel in 1979.

"We've heard some very positive statements thus far including about respecting international obligations, which would in our view cover the peace treaty with Israel, but we have to wait and judge by what is actually done," she said.

Mursi, 60, a U.S.-trained engineer and Muslim Brotherhood insider, is expect to take his oath on Saturday, but it is uncertain where he will do so.

Parliament is the normal venue, but the constitutional court dissolved the Islamist-led lower house this month in a clear attempt to roll back the Brotherhood's electoral successes since Mubarak's overthrow in a burst of popular anger 16 months ago.

According to a government source quoted by state-run al-Ahram newspaper, the same court will swear in Mursi, but this may be unpalatable to the man who defeated a former pro-Mubarak air force chief in a run-off for the presidency this month.

The office of Egypt's president-elect Mursi said details on the swearing in ceremony would be released on Thursday.

UNEASY BEDFELLOWS

Mursi's own authority has already been circumscribed by the military, which has long viewed the Brotherhood as a peril to Egypt's secular establishment and must now cohabit with a man it fears will seek to erode its entrenched power and privilege.

The military has also asserted its right to veto the proposals of an assembly supposed to draft a new constitution, in another sign that the generals are bent on retaining a controlling grip on Egypt's future.

The army council has promised a handover of power by July 1, but no details of the ceremony have been released. The state news agency said the presidency would announce them on Thursday.

Al-Ahram said Field Marshal Mohamed Hussein Tantawi would hand executive authority to Mursi in an army club on Saturday in front of the military council, the acting prime minister and his colleagues, political party leaders and foreign diplomats.

Mursi, who has promised an inclusive government, sat down with some minority Christian leaders in the first of several meetings that will involve political parties and youth groups active in the anti-Mubarak revolt, said Yasser Ali, spokesman to the president-elect.

Mursi also met 24 young campaigners who played a leading role in the uprising that toppled Mubarak, and planned to meet the heads of political parties on Thursday, Ali said.

The groups represent diverse constituencies that share fears of what the Brotherhood's Islamist agenda might mean for Egypt, a deeply religious society where political freedom was stifled for decades in Mubarak's military-backed police state.

The Brotherhood, itself banned under Mubarak, says it wants to work with other parties. It denies planning to curb social freedoms or infringe on the rights of Egypt's 10 percent Coptic Christian minority, which has long complained of discrimination.

Mursi's daunting task is to accommodate the military, reach out to his political opponents and stabilize a country shaken by months of upheaval, uncertainty and economic stress.

He must also cope with Salafi Islamists, the Brotherhood's ultra-orthodox rivals. They may have helped him to victory against his military adversary in the run-off but may now press for action on a stricter Islamist agenda.

"We are supposed to meet with the president in the next few days to assess the role of political parties in the next phase," said Emad Abdel Ghaffour, head of the Salafi Nour Party, which won nearly a quarter of the seats in the dissolved parliament.

"It will be a coalition of forces working together. Nour Party is part of this commitment," he told Reuters.