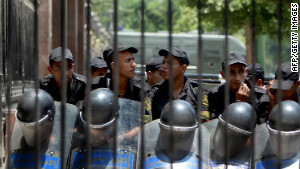 Egypt's Presidential Election Commission has delayed, from Thursday until a date to be announced, the release of the results of Egypt's presidential election, state-run Nile TV reported Wednesday.

"The committee has not completed the verification of a total of 400 electoral violation reports submitted by the two presidential candidates," said Tarek Shibl, a senior member of electoral committee. "Most probably the announcement of the election results will be delayed a day or two but nothing is final yet."

Earlier Wednesday, the former ruler, ousted Egyptian strongman Hosni Mubarak, was removed from life-support equipment, his health improved a day after a state-run news agency reported that he was "clinically dead," his attorney said.